Products:
Kit penetrant testing NORD-TEST(500 ml)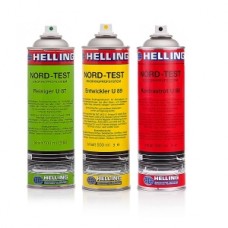 Product Code:
99999999
Availability:
Out Of Stock

Price without VAT: 21.52€
Price with VAT: 25.82€

Description
The kit of penetrant testing includes:
Cleaner U87 NORD-TEST - Environmentally safe alcohol based cleaner. Fast evaporating without residues.
Penetrant Kontrastrot U88 NORD-TEST - Deep red penetrant with good wetting properties. Good washable. Practically odor free.
Developer U89 NORD-TEST - Fine-grained white powder suspension on alcohol base. Flavoring free. Short drying time. Being applied as an even thin layer.
The NORD-TEST penetrant system is widely applied for parts testing in engineering and automobile industries, ship and boiler building, welding, etc. in a temperature range from –5°C to +50°C. In order to assure the proper sensitivity while testing at low temperature (from -5 °C? to + 10 °C?) it is necessary to increase the penetration time according to the requirements of DIN EN ISO 3452, Part 2 and EN 571, Part 1.
For testing at higher temperature (from +65°C? to + 175°C?) the Super-Chek penetrant system has been specially developed.
The NORD-TEST penetrant system was tested and approved in accordance with DIN EN ISO 3452-2, EN 571, KWU and meets the requirements of Lloyd's Register of Shipping, Bureau Veritas, Bureau Central Hollandais, Germanischer Lloyd, MIL-I-25135/QPL-25135, AMS 2644, ASME Boiler and Pressure Vessel, ASTM E-165, ASTM-E1417.
The low content of sulfur and halogens was ascertained and confirmed according to ASTM E 165-02 and ASTM D 516-02, as well as to requirements of KWU and DIN EN ISO 3452.
Due to ADR regulations we deliver these goods only to Slovakia